In times of turmoil, unrest, bewilderment, instability what is better than coming together & connecting -- not feeling lonely?! Our Program is ready to host all of us!
Check symposium details in this months editorial...
Food For The Day
Featured IDOCs

Capacity of language - Interview with Frey Faust
As part of the REFLEX research on documenting contemporary dance, Ulla Mäkinen will interview Frey Faust and discuss his work with Axis Syllabus and his approach to documenting. This inte...
By [Multiple Creators]
2016.05.05

0

164

The Legacy Project Premiere
The Legacy Project; what is to become a publicly available collection of video documents made by individual participants documenting lineages of valuable lessons learned.
By [Multiple Creators]
2016.05.09

0

183

Work to be Discovered - Interview with Nancy Stark Smith
As part of the REFLEX research, the focus of this conversation with Contact Quarterly's co-founder and co-editor Nancy Stark Smith is on the importance of this dance & improvisation journal...
By
Defne Erdur

2016.06.23

0

119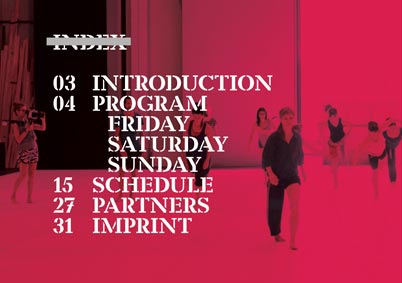 You can download the program brochure for the 4th IDOCDE Symposium
here
.
Symposium Eligibility
Want to know more about eligibility and how it relates to the Symposium? Look no further! Follow this
link
for instructions. Important! All are welcome to join the IDOCDE Symposium 2016! Eligible IDOCDE teachers acquire the right to register to the Symposium at a
reduced price!
.
Latest IDOCs

Summary of the d_Trace research weekend 27-29.11.2015
Summary of the first research Weekend. We worked on topics and formats concerning specific questions related to contact improvisation training for advanced dancers in the mixed abled context...
By
Cornelia Scheuer
Yesterday 17:11

0

14

Parameters of Professionalism for Contact Improvisation Trai...
What means Professionalism in for Trainer and Dancers with or without Art Studies in a mixed-abled field
By
Cornelia Scheuer
Yesterday 17:05

0

13