This October's IDOCDE Editorial, written by Friederike Lampert and pavleheidler, invites you think about the notion of beauty and ask: How does meeting beauty change my perspective? and: What does meeting beauty make possible? Whilst some might argue thinking about beauty an archaic endeavour, others might find this time of year – when leaves are changing colour, mushrooms of all shapes and sizes growing everywhere, and the temperature dropping gradually urges our bodies to start getting ready for the winter – a time when thinking about beauty comes almost naturally. Be that as it may, we hope this Editorial will inform and inspire your processes and encourage you to experience, reflect and document – all in good time.
Food For The Day
Featured IDOCs

Olim Lacus Colueram
A theory in separate parts, revisiting notions of public decency and 21st century Egyptian dance... This article is an extended version of the presentation that was realized by Adham Hafez d...
By
Defne Erdur

2017.07.31

2

298

The Human Movement Alphabet
The Human Movement Alphabet proposes a universal writing system for describing, documenting, evaluating and composing the movement patterns and possibilities of the human body. By default, t...
By [Multiple Creators]
2017.05.24

2

621

DERVISH TANGO
Spinning with partner is absolutely a great opportunity to discover about the reflexes and behaviours of the shallow ME while communicating! Constantly contacting our partner in different fo...
By
Ziya Azazi
2017.05.10

0

608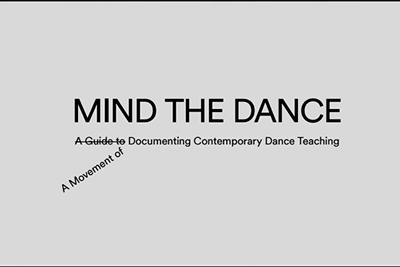 More about
MIND THE DANCE
and more about
MIND THE DANCE Labs
Latest IDOCs

looking back, thinking ahead
I offer here some reflections from my experience of this year's Symposium.
By
Kevin Fay
2017.09.19

1

130

Art from Art - Part 2 with Daniela Ponieman
This Idoc is part of MIND THE DANCE - More to explore chapter. As part of the - Art from Art - research, I invited Daniela Ponieman to the classes I was teaching with a colleague of mine, Pe...
By [Multiple Creators]
2017.09.18

0

165