the 2021 IDOCDE symposium is now closed.
a great big thank you to everyone who contributed in every way that you have, in Vienna and via ZOOM.
until we meet again, may the winds carry you far
yours truly,
pavleheidler for Team IDOCDE
Food For The Day
Featured IDOCs

[deu]

Making Sense through Sensation
Reflektion über einen Workshop zu Dokumentation als Teil künstlerischer Praxis/ Forschung
By
Andrea Keiz
2020.07.10

0

2216

Thinking Bodies in Dance. A somatic R.E.A.Ch.
introduction to a Ph.D. in intermedial and somatic dance practices.
By
Klaas freek Devos
2021.02.16

0

1424

Dancing To Silence: Becoming 'Ear-Body'
Dance and music commonly come hand in hand, but many professional dancers prefer dancing to silence. Why is that?
By
Ira Ferris
2021.02.16

0

1238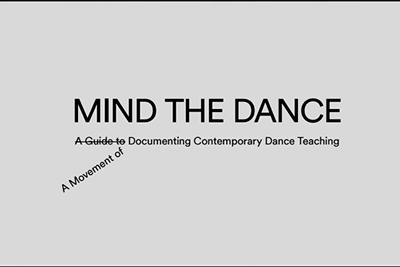 MIND THE DANCE
is a collection of essays, manuals, scores, exercises, and maps; giving voice to a multitude of stances, ideas, and applications in and around documenting movement. It aims to motivate and empower the reader-teacher-artist to use creative documenting to enhance their teaching and artistic practice.
Latest IDOCs