The IDOCDE website arrives at the most anticipated and significant update yet! In the newset IDOCDE Editorial, read about the first major update to the website's functionality since its release.
with love and devotion,
pavleheidler for Team IDOCDE
***
With the IDOCDE Editorials we wish to bring you the most recent updates and news from across Europe on a monthly basis. Writers of the Editorials are MINDTHEDANCE researchers coming from IDOCDE's partner-institutions and Team IDOCDE aka Staff Members. Each month a different person takes the initiative to write about the state of their research, most recent ongoings in their homelands relating to any topic that might influence the life of a dancer. These might include updates regarding the socio-economic, or political climate, institutional or freelance opportunities or the lack thereof, etc. We hope you'll find your way to the IDOCDE Editorial.
Food For The Day
Featured IDOCs

My glossary of personal terminology
A personal glossary created during Mind The dance residence in Vienna, July 2018, inspired by "Glossary of personal Terminology" by Bertha Bermudez Pascual / Mind The Dance publication
By [Multiple Creators]
2018.07.27

1

348

Questions which arrised during the MTD Residency BODIES AS R...
During the 3 days of our residency we created questions from our writings, embodyments and dancings.
By [Multiple Creators]
2018.07.30

0

388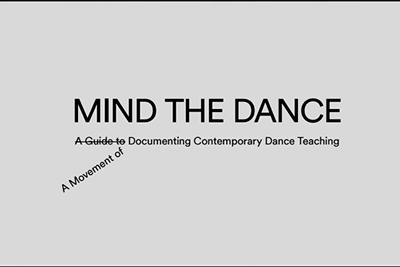 MIND THE DANCE
is a collection of essays, manuals, scores, exercises, and maps; giving voice to a multitude of stances, ideas, and applications in and around documenting movement. It aims to motivate and empower the reader-teacher-artist to use creative documenting to enhance their teaching and artistic practice.
Latest IDOCs